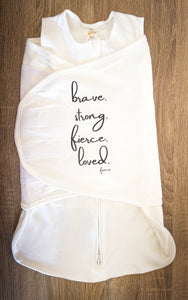 Help your baby sleep safer with our "Brave. Strong. Fierce. Loved." baby swaddle sleep sacks. These adjustable swaddle sacks allow you to control how tight your newborn is wrapped in their swaddle blanket and feature an easy front zipper providing parents with convenient access for diaper changes. These adorable swaddle sacks are made from super-soft 100% Cotton with an Interlock Knit to provide your newborn with a comfortable blanket for their delicate skin.
Material:
100% Cotton – Interlock Knit
Adjustable swaddle sack with chin guard
Convenient front zipper for easy diaper changes
Provides a comfortable, tight womb-like wrap to help your newborn sleep
Can reduce the risk of

 SIDS

 

(Sudden Infant Death Syndrome)
**Make sure to follow safe sleep recommendations in regards to swaddle sleep sacks by the American Academy of Pediatrics Safe Sleep Guidelines/Recommendations.